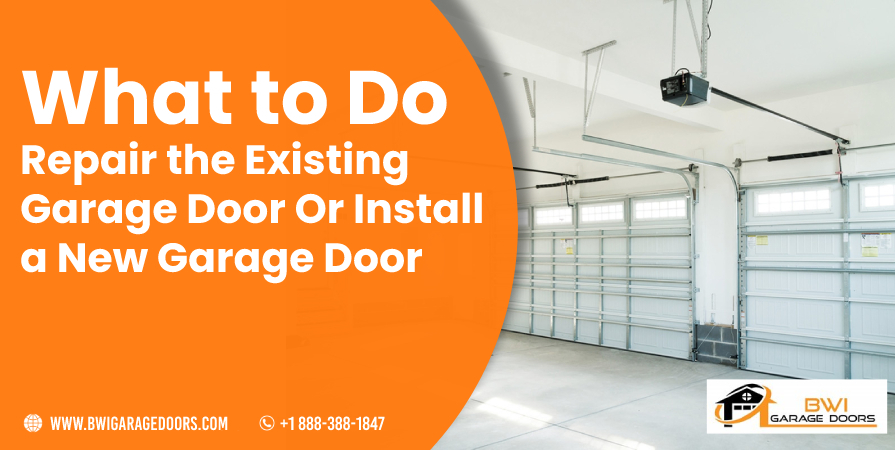 Do you find your garage door has seen better days? Are you thinking about whether or not you should repair or replace it? However, there is an expiry time and usable situation for everything, including repairs and replacements. It applies to your garage door as well. There are several factors to consider to help you decide whether to go for a garage door repair or switch it out for a new garage door installation in Washington DC.
When Should You Replace a Garage Door
A decent garage door can endure several decades in most cases. However, ageing and rot are just two factors that may lead you to believe that garage door replacement is a better alternative than attempting frequent repairs. If you notice a few undermentioned signs, then it is time to call our garage door installation in Washington DC for a garage door replacement:
Lacks child safety features
The safety measures now available on contemporary garage doors are not available on older ones. One of the most notable features of more distinctive garage doors is the presence of safety sensors that prevent the door from moving if it senses pets, children, or anything beneath it. It protects you against serious injury and may save your goods from costly damage. While there are aftermarket add-ons for older garage doors, they are still not secure. It was also quite expensive.
The door is beginning to show its age.
A garage door's expected helpful life can sometimes be exceeded. As a result, installing a new garage door may not provide the same level of curb appeal. Garage door replacement can be a better option if you wish to add more value to your property. You might think a fresh coat of paint will do the trick, but a newer garage door can provide a lot more. Today's garage doors are more sophisticated and visually beautiful and can accommodate any car size. Furthermore, more unique garage doors offer greater security than their older counterparts.
Weather-related damage
Wind, rain, snow, and even UV rays from the sun can wreak havoc on garage doors. Over time, dirt, leaves, and other debris can become caught inside the tracks, producing friction and track misalignment difficulties. If your garage door has significant weather damage, such as rusting, warping, or discolouration, it's time to call our garage door installation in Washington DC. We recommend the one that fits best your property and budget.
Impact on the energy bill
Do you feel there is a drastic increase in your energy bill? It could happen due to your older garage door. The energy efficiency of newer garage doors is a priority. Newer garage doors are designed with energy efficiency in mind. We recommend installing late-model garage doors with insulation features as it has a pricey impact on your energy bill.
Panels get rotted
In sticky situations, metal garage door panels are prone to warping. If your garage door is showing deterioration, it's better to replace it with a modern model. This is because the materials used in newer garage doors are more durable and weather-resistant than those used in older models.
When Should You Repair Your Garage Door?
There are some instances where a garage door does not need to be replaced. Instead, our garage door repair minor repairs make it run smoothly. It will save you a lot of money while restoring the garage door to its former glory. Let's look at some of the most frequent garage door problems and how they can be fixed.
Sagging garage door 
Do you feel your garage door appears to be sagging? It reflects that it has lost its balance. Unbalanced springs operate garage doors, reducing the energy required to lift them off the ground. The lifting mechanism is forced to work harder than expected when the door is out of balance. As a result, it deteriorates and is eventually discovered worn or damaged. Our experienced garage door repair in Newmarket & garage door repair in Bethesda, MD, can fix this issue in a single visit.
Sudden breakdown
It can be frustrating when a garage door breaks down. But the good news is that it can likely be repaired with our garage door repair in Bethesda, MD. It could be as simple as changing the remote's dead batteries. However, if that is not the issue, call our professional garage door repair technician in Washington DC. We can diagnose the problem and fix the problem quickly and correctly.
When the budget won't permit a replacement
Repairs are considerably cheaper than buying a new garage door. However, the cost varies based on door type, size, damaged parts, and the company you work with. If you're having problems with your garage door but can't afford to replace it, garage door repair is a great alternative. We have a qualified garage door repair technician in Washington DC who will help you decide if a repair is the best solution for your budget.
Comments are closed.